Turbine vibrators, maintenance-free
Turbine vibrators have a rotor which is designed as a compressed air turbine. This is equipped with eccentrically arranged weights for unbalance generation.
The bearings of the turbine shaft consist of high-quality bearings designed for continuous operation. The turbine vibrators allow the use of unlubricated compressed air and are completely maintenance-free. They are also characterized by high speeds and low air consumption.
Description
Performance data
Dimensions
Data sheets
Turbine vibrators belong to the class of pneumatically driven vibrators. They serve a wide variety of tasks in bulk material and unit load conveying technology, industrial automation and silo technology. Fields of application:
Material flow support
Screening
Compacting of powders and granulates
Sorting
Dissolving
Conveying
Cleaning with the aid of vibration
A turbine vibrator can be used, for example, in the food and pharmaceutical industries, on small hoppers, containers, classifiers or screening plants. All that is required is to lay a compressed air line and attach the turbine vibrator. A compact turbine vibrator is ideal for maintaining the material flow in confined areas of the production process and is completely maintenance-free.
The housing of the turbine vibrator is made of an aluminum alloy and protected against corrosion by an anodized coating. Inside the housing, a compressed air turbine equipped with unbalanced weights is guided in two ball bearings. The housing is completely closed, thus no dirt can penetrate and damage the turbine vibrator.
Compressed air turbine vibrators develop high centrifugal forces and run reliably in any installation position due to the close pitch of the turbine blades. The turbine shaft bearing consists of generously dimensioned and sealed ball bearings that are lubricated for life. This allows a turbine vibrator to be used completely maintenance-free, making it the first choice for a wide range of applications.
Our turbine vibrators are available in twelve different sizes. Alternatively, our ball vibrators or our roller vibrators can also be used.
Field of application
Turbine vibrators are suitable for the following tasks, among others:
Vibration drive for small vibrating tables, chutes or screens
Preventing build-up on the walls of bunkers, hoppers, bins and silos
Discharge aid for bulk material bins
Maintaining the flow of material
Loosening of product jams for bulk material and piece goods
Vibration conveyor aid for filling, transfer and production plants
Vibration
Vibration is generated by means of a rotor, which is designed as a compressed air turbine and is supplied with compressed air through a nozzle. The rotor has one or more eccentrically arranged weights, which lead to an imbalance of the rotating shaft. As a result, the turbine vibrators generate a circular oscillation.
The turbine shaft is mounted in two generously dimensioned ball bearings suitable for continuous operation at high speeds. These allow high efficiency and, because they are lubricated for life, enable the use of unlubricated compressed air.
Pressure/Temperature
The vibrators are operated with up to 6 bar of compressed air. By throttling the air supply (between 2 and 6 bar), the frequency and strength of the vibration can be increased/decreased.
The standard operating temperature is -20°C to +120°.
A 2/2 way valve and filtered compressed air are required for operation. The turbine vibrators can be operated without lubricated compressed air as the rotor ball bearings are lubricated for life.
Protection/Safety
The enclosed silencer ensures quiet operation, also there is an explosion protection according to the following ATEX classification:
ATEX Zone 21 II 2D c T95°C/125°C Zone 1 II 2G c T5/T4.
Drehzahl u/min
Kraft kn
Luftverbrauch l/min
Typ
2 bar
4 bar
6 bar
2 bar
4 bar
6 bar
2 bar
4 bar
6 bar
OT8
34.000
38.000
42.000
1,08
2,01
2,86
45
81
110
OT10
26.000
33.000
38.000
1,03
1,68
2,47
45
81
110
OT10S
17.200
23.400
26.000
0,71
1,44
1,83
45
81
110
OT13
24.500
28.500
31.000
1,98
2,58
2,94
122
204
285
OT16
18.000
20.000
21.000
1,90
2,34
2,59
122
204
285
OT16S
11.500
15.000
17.500
1,27
1,92
2,30
122
204
285
OT20
14.500
19.000
23.000
2,46
3,96
5,16
184
318
452
OT25
13.200
15.500
17.000
2,39
3,30
4,98
184
318
452
OT25S
9.000
11.000
13.500
2,10
3,29
4,74
184
318
452
OT30
11.000
12.500
14.500
3,44
7,07
7,66
322
542
749
OT36
8.500
11.500
12.000
3,35
6,85
7,35
322
542
749
OT36S
6.000
7.000
8.500
3,98
6,93
7,40
322
542
749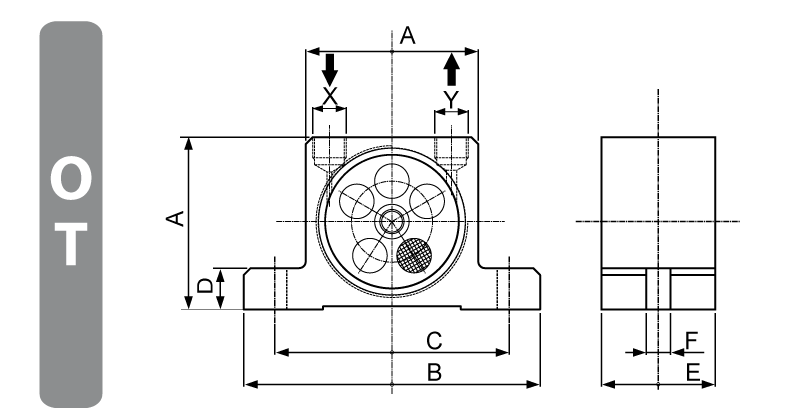 | | | | | | | | |
| --- | --- | --- | --- | --- | --- | --- | --- |
| Typ | A | B | C | D | E | F | X-Y |
| OT8 | 50 | 86 | 68 | 12 | 33 | 7 | 1/8″ |
| OT10 | 50 | 86 | 68 | 12 | 33 | 7 | 1/8″ |
| OT10S | 50 | 86 | 68 | 12 | 33 | 7 | 1/8″ |
| OT13 | 65 | 113 | 90 | 16 | 42 | 9 | 1/4″ |
| OT16 | 65 | 113 | 90 | 16 | 42 | 9 | 1/4″ |
| OT16S | 65 | 113 | 90 | 16 | 42 | 9 | 1/4″ |
| OT20 | 80 | 128 | 104 | 16 | 56 | 9 | 1/4″ |
| OT25 | 80 | 128 | 104 | 16 | 56 | 9 | 1/4″ |
| OT25S | 80 | 128 | 104 | 16 | 56 | 9 | 1/4″ |
| OT30 | 100 | 160 | 130 | 20 | 73 | 11 | 3/8″ |
| OT36 | 100 | 160 | 130 | 20 | 73 | 11 | 3/8″ |
| OT36S | 100 | 160 | 130 | 20 | 73 | 11 | 3/8″ |